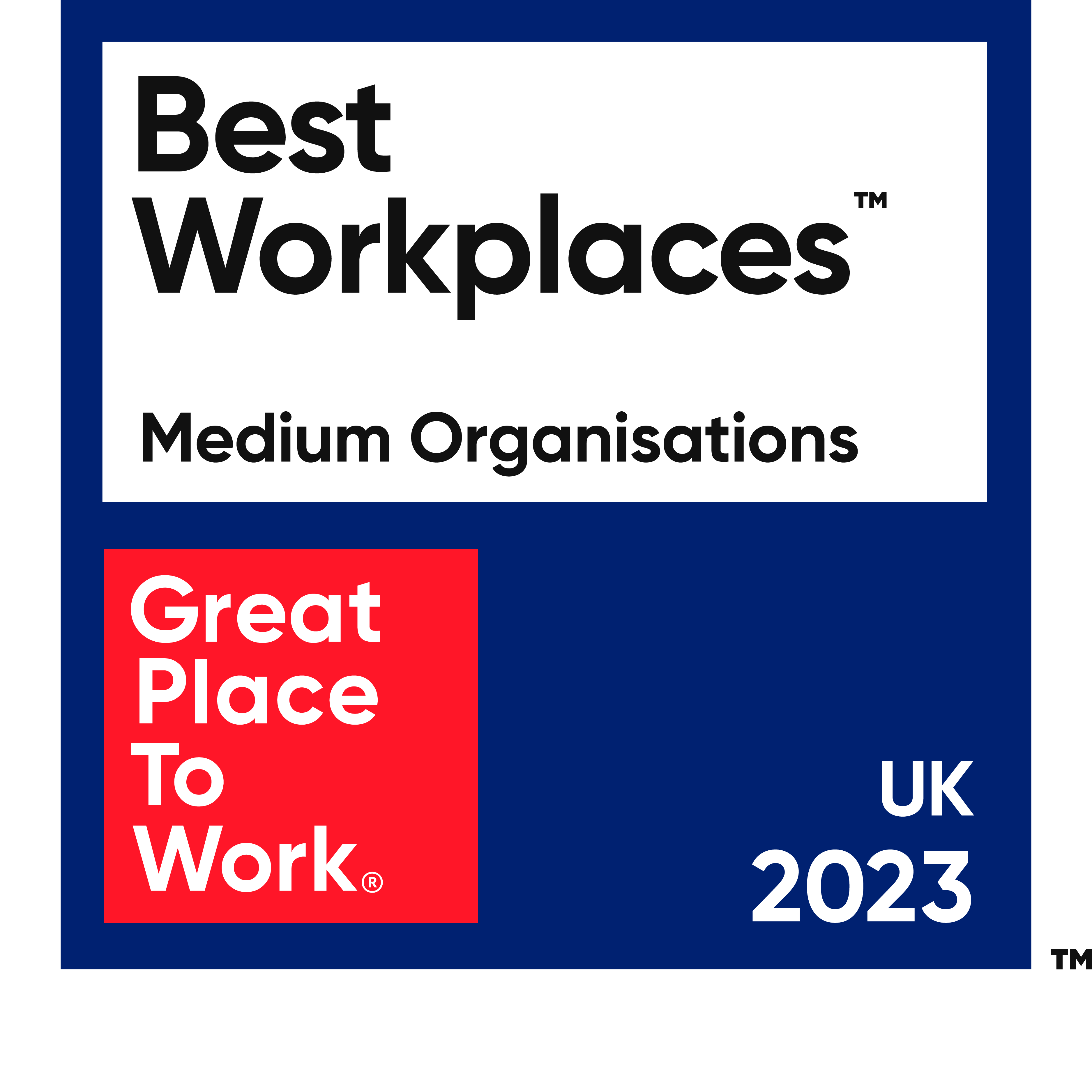 Airwalk Reply's
Corporate Social Responsibility (CSR) and Corporate Social Value (CSV)
policy is just one of the reasons why the company achieved the award, within the medium category, as employees gave an exceptionally high overall statement score for feeling good about the many ways that Airwalk Reply contributes to the community.
As well as having a high sense of pride and advocacy for the company other statement scores reported that employees at Airwalk Reply feel that they are treated fairly and inclusively, that they have training and development opportunities widely available, that they are paid fairly, and that they have high levels of trust in the executive team.
Airwalk Reply 2023 employee survey feedback included, "The dedication to individual's growth and development is impressive. There is an actual focus on people and sharing their skills and knowledge" and "The management team have open doors, you can speak up and ask anything, they are all so supportive of their workforce".
Airwalk Reply Founding Partner Ben Walker says, "Gaining this award is especially important this year as we have scaled significantly since our previous result, which can bring challenges. This is recognition that we have still been able to maintain focus on our employee experience, and whilst we are incredibly proud of our results which are testament to our fantastic people, we are always looking to improve and we now have new insight into the areas we can put more emphasis on going forward".
"As the global authority on workplace culture, our mission at Great Place to Work® has always been to build a better world by helping organisations become a great place to work for all. We strongly believe in the notion of 'better for business, better for people, better for the world," said Benedict Gautrey, Managing Director of Great Place to Work® UK.
"Best Workplaces™ consistently put people first - not just in terms of looking out for their own employees but also by caring for and supporting their surrounding community and environment. We're incredibly proud to recognise the very best 'For All' organisations committed to equity and unfaltering in ensuring that all employees are empowered to deliver the right strategic solutions to ever-changing business opportunities and challenges."
A great workplace is more than lavish perks, fancy parties and amazing benefits. While those elements are present in many Best Workplace™ organisations, at its core a great workplace is about the level of trust that employees experience in their leaders, the level of pride they have in their jobs; and the extent to which they experience camaraderie with their colleagues.
Great Place to Work® performed rigorous evaluations of hundreds of employee survey responses alongside Culture Audit™ submissions from leaders at each company to create the 2023 UK's Best Workplaces™ list. They then used these data insights to benchmark the effectiveness of companies' employee value propositions against the culture their employees actually experience. Those businesses who achieve the highest scores after evaluation receive Best Workplaces™ status.
"I have never worked in an organisation that prioritises its people as much as Airwalk does", Airwalk Reply 2023 employee survey feedback.
Airwalk Reply is officially one of UK's Best 2023 Workplaces™ for Wellbeing! Read more
About Great Place to Work®
Great Place to Work is the global authority on workplace culture. Since 1992, they have surveyed more than 100 million employees around the world and used those deep insights to define what makes a great workplace: trust. In 2022, they launched the first-ever annual UK's Best Workplaces™ for Wellbeing list of organisations who stood out as delivering exceptional wellbeing support for their employees across all levels and departments. For more information, visit
www.greatplacetowork.co.uk