We are delighted to announce that Social Value Quality Mark CIC has awarded its Level 1 Quality Mark to Airwalk Reply. The Quality Mark recognises distinction in values-led business that benefits customers, communities and the planet. It is one of the most rigorously tested standards of its kind in the UK.
To gain the Level 1 Quality Mark, we had to make a series of commitments to create, measure and independently report our social value. We have made pledges across the themes of health and wellbeing, employment and volunteering, education and skills, economic, environmental, crime and justice, housing, and social and community.
Richard Dickins, MD of Social Value Quality Mark, said: "Today's customers increasingly make their decisions based on how companies treat their staff, the environment and society. Through the Quality Mark we cultivate and recognise the highest known standards in values-led business. This award recognises Airwalk Reply's outstanding commitment to create, report and embed social value."
Throughout 2023, our people will be involved in a range of initiatives to help fulfil our pledges. Airwalk Reply's Partner, Justin Gilroy said: "We have always prided ourselves in taking a responsible approach to how we add value to not only our clients, but also to broader society. So, I am really pleased that it is formally recognised, and look forward to supporting the great initiatives in continuing to deliver a better future for all they touch."
About Social Value Quality Mark®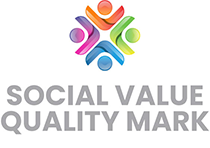 The Social Value Quality Mark® (SVQM) is an independent social enterprise launched in September 2015 by Richard Dickins (MD) and supported by a team of independent, passionate practitioners who uphold the highest levels of rigour, quality and trust. Its purpose is to cultivate and recognise the highest known standards in values-led business.

The Quality Mark was created to assist organisations to legitimately demonstrate social impact and value claims. It also helps organisations align themselves to the (Public Sector) Social Value Act 2012.